South Park Spoofs Kanye West's "Bound 2" Music Video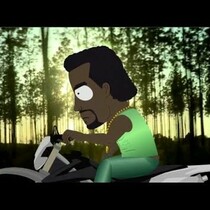 Posted December 12th, 2013 @ 8:51am
Already this season, South Park has lampooned Sinead O'Connor, Miley Cyrus, and Van Halen. For the season finale, creators Trey Parker and Matt Stone brought back one of show's most infamous celebrity parodies: Kanye West. After diving off into the ocean in the now-infamous "Fishsticks" episode from Season 13, Kanye returned last night as a "recovering gay fish" on a mission to persuade the town that his beloved Kim Kardashian is in no way a Hobbit.
South Park did not hold back, spoofing Kanye's "Bound 2″ video alongside a scene of him interrupting an awards show christening Pope Francis as TIME's Person of the Year. The final scene saw Kanye read a story to the character Wendy, who was intent on exposing Kardashian as a product of photoshop.

Check out South Park's "Bound 2" spoof in the video above.
Source: YouTube