Janet Jackson, Future & More To Perform Controversial Saudi Arabia Concert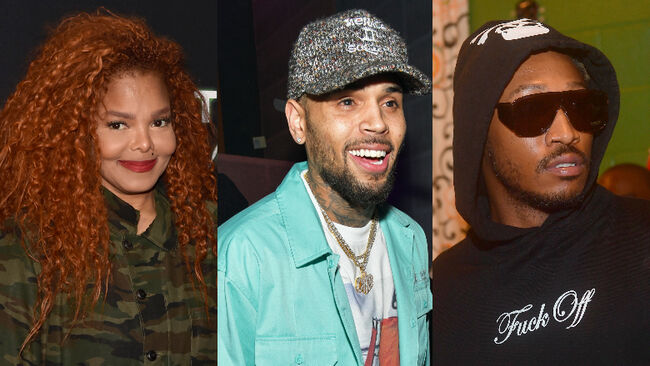 The Jeddah World Fest lineup has four new additions.
Nearly two weeks after Nicki Minaj announced that she was pulling out of the controversial Saudi Arabia concert due to human rights concerts, Jeddah World Fest revealed an all-new lineup for their upcoming show.
Janet Jackson, Future, Chris Brown, 50 Cent, and Tyga — alongside previously announced performers Liam Payne and Steve Aoki — will take the King Abdullah Sports Stadium stage on Thursday (July 18). The artists' addition to the concert came as a surprise to the Human Rights Foundation and similar organizations, who have asked that artists not perform in Saudi Arabia due to the ultraconservative country's lack of civil rights for women — women weren't given the right to drive or access to education and healthcare without the need for consent from a guardian until 2017 — and its heinous treatment of members of the LGBTQ community.
President of the Human Rights Foundation, Thor Halvorssen, reacted to the news in a statement to The Associated Press on Thursday, writing it was "profoundly distressing that [the artists] have chosen money over morals." He added: "These individuals constantly make public statements of support for LGBT rights and women's rights, except, apparently, when a seven-figure check is attached. The hypocrisy is breathtaking. Principal apparently matters to them far more than principles."
Earlier this month, Nicki announced that she chose to pull out of her performance in Saudi Arabia after human rights groups called her out for performing in the ultraconservative country. "After careful reflection I have decided to no longer move forward with my scheduled concert at Jeddah World Fest," Nicki said in a statement. "While I want nothing more than to bring my show to fans in Saudi Arabia, after better educating myself on the issues, I believe it is important for me to make clear my support for the rights of women, the LGBTQ community and freedom of expression."
Halvorssen mentioned Nicki's decision in his statement, praising her for choosing to back-out of the show. "It's clear that, after losing Nicki Minaj on the basis of the Saudi regime's atrocious human rights record and their treatment of women and the gay community, the Crown Prince has chosen to spend whatever it takes to give the appearance that things are normal and that this is just another music concert. Except it isn't," he wrote. "It's a blatant public relations push on the heels of the pre-meditated assassination of a Washington Post columnist and the ongoing imprisonment of dozens of human rights activists. Saudi is engaged in a sophisticated campaign of distraction."
Photo: Getty Images